Modern Applied Science (MAS) is an international, double-blind peer-reviewed, open-access journal, published by the Canadian Center of Science and Education. It publishes original research, applied, and educational articles in all areas of applied science. It provides an academic platform for professionals and researchers to contribute innovative work in the field. Authors are encouraged to submit complete, unpublished, original works that are not under review in any other journals. The scopes of the journal include, but are not limited to, the following fields: Agriculture, Biological E...
Read More
Posted on Apr 2, 2013 We are seeking submissions for the coming issue published in November 2023. The paper should be written in professional English. The length of 3000-8000 words is preferred. All manuscripts should be prepared in MS-Word format, and submitted Read More

Posted on Jul 9, 2012 We are recruiting reviewers for the journal. If you are interested in reviewing submissions, we welcome you to join us. Please find further details at http://www.ccsenet.org/journal/index.php/mas/editor/recruitment If you have any questions, please Read More
e-Version First is a feature offered through our journal platform. It allows PDF version of manuscripts that have been peer reviewed and accepted, to be hosted online prior to their inclusion in a final printed journal. Readers can freely access or cite the article.
We aim to publish accepted manuscripts in e-Version First in two weeks after the final draft completed.
Each paper published in Modern Applied Science is assigned a DOI®number, which appears beneath the author's affiliation in the published paper.
----------------------------------------------------------
Journal Publishing Workflow
Please see the workflow for the article publication: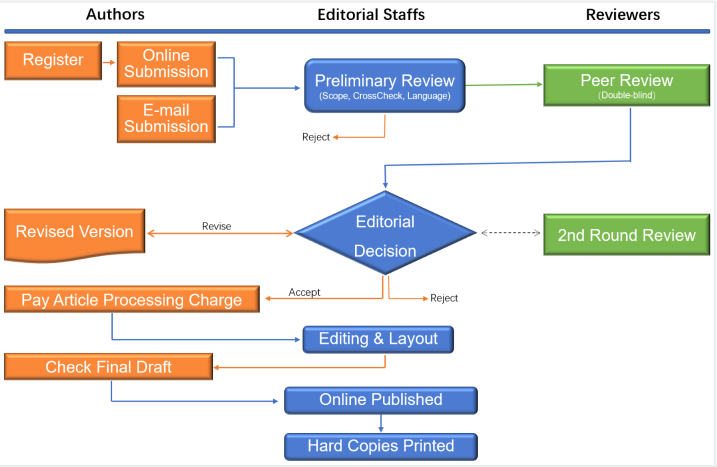 Paper Selection and Publication Process
a) Upon receipt of paper submission, the Editor sends an E-mail of confirmation to the corresponding author within 1-3 working days. If you fail to receive this confirmation, your submission/email may be missed.
b) Peer review. We use double-blind system for peer-review; both reviewers and authors' identities remain anonymous. The paper will be peer-reviewed by three experts; one is an editorial staff and the other two are external reviewers. The review process may take 4-10 weeks.
c) Notification of the result of review by E-mail.
d) The authors revise paper according to Paper Submission Guide, and pay Article Processing Charge (Formatting and Hosting) (for accepted papers).
e) After publication, if author need free print copies, please complete an application form to order printed copies. Once approved, we will arrange print and delivery, for a maximum of two copies per article. If more copies are desired, please contact the editor before making an order.
f) A PDF version of the journal is available for download on the journal's webpage free of charge.
---------------------------------
Ethical Guidelines for Journal Publication
For a peer-reviewed journal, the publication of articles plays an essential role in the development of a coherent network of knowledge. It is, therefore, essential that all publishers, editors, authors, and reviewers, in the process of publishing the journals, conduct themselves in accordance with the highest level of professional ethics and standards.

The publisher is dedicated to supporting the vast efforts of the editors, the academic contributions of authors, and the respected volunteer work undertaken by reviewers. The publisher is also responsible for ensuring that the publication system works smoothly, and that ethical guidelines are applied to assist the editor, author, and reviewer in performing their ethical duties.
Please find more details at http://www.ccsenet.org/journal/index.php/0/index/ethics
------------------------------------------------------------------------------------------------------------------------
Index/List/Archive
ABI/INFORM
Aerospace Database
American International Standards Institute (AISI)
BASE
CABI
Chemical Abstracts database
CiteFactor
Civil Engineering Abstracts
Communication Abstracts
Excellence in Research for Australia (ERA)
JournalGuide (SNIP: 0.423)
LOCKSS
Metadex
NewJour
Norwegian Centre for Research Data
Open J-Gate
Polish Scholarly Bibliography (PBN)
ResearchGate (2018/2019 RG Journal impact: 0.82)
SHERPA/RoMEO
Standard Periodical Directory
Ulrich's
Universe Digital Library
Veterinary Science Database
WorldCat OCLC
zbMATH
This work is licensed under a Creative Commons Attribution 4.0 License.
Contact
Sunny LeeEditorial Assistant