Identification of Resistance Sources to Wheat Stem Rust from Introduced Genotypes in Kenya
Molly Akello

Felister Nzuve

Florence Olubayo

Godwin Macharia

James Muthomi
Abstract
Stem rust Puccinia graminis Pers. f. sp. tritici of wheat is the most important disease in Kenya. Emergence of race Ug99 and other variants virulent to host resistance genes including Sr31 has rendered 95% of Kenyan cultivars susceptible. This study aimed to identify new sources of resistance to stem rust in a collection of exotic genotypes. Three hundred and sixteen wheat genotypes were screened at the Kenya Agricultural and Livestock Research Organization (KALRO) in Njoro for two seasons in 2015. The host reaction to disease was evaluated based on the modified Cobb scale. The relative Final Rust Severity (rFRS), Average Coefficient of Infection (ACI) and relative Area Under Disease Progress Curve (rAUDPC) were used to characterize the genotypes for stem rust resistance. Agronomic traits were also recorded. Six genotypes namely ALBW-100, ALBW- 204, EPCBW-261, EPCBW-295, PCHP-309 and PCHPBW-310 with significantly low ACI, rAUDPC and rFRS were identified. Thirty five genotypes showed Pseudo-Black Chaff (PBC) phenotype associated with resistant gene Sr2, a source of partial resistance in wheat. The genotypes also showed low disease severity (20-25%) and Moderately Susceptible (MS) – Susceptible (S) infection types in both seasons. Genotypes had significant differences (p ≤ 0.05) on plant height, 1000-kernel weight and number of tillers indicating genetic variation which could be exploited in breeding for resistance to stem rust. The negative relationship between agronomic variables involving plant height, spikelet length and 1000-kernel weight showed harmful effects of stem rust on plant characteristics including yield. The stem rust resistant genotypes with good agronomic traits could be introgressed into adapted Kenyan backgrounds while the genotypes showing presence of PBC could be utilized to develop durable stem rust resistant wheat. Inheritance studies to elucidate the exact genes conferring resistance to stem rust could be conducted for breeders to exploit their genetic variability.
This work is licensed under a
Creative Commons Attribution 4.0 License
.
Journal Metrics
The data was calculated based on Google Scholar Citations.
h-index (August 2022): 67
i10-index (August 2022): 839
h5-index (August 2022): 20
h5-median (August 2022): 28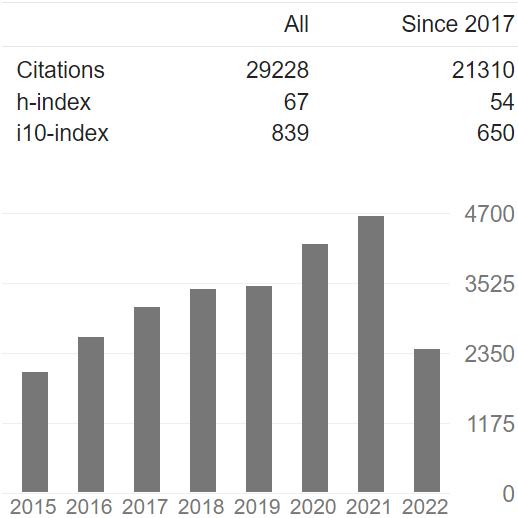 Contact
Anne BrownEditorial Assistant