Effect of Melatonin on Some Hematological Parameters and Immune Status of Broiler Chicks
Hodallah H. Ahmed

Gamal S. Essawy

Hamdy A. Salem

Mabrouk A. Abd el-daim
Abstract
Melatonin, the pineal gland hormone, has been shown to play a principle role in maintenance of health and well being of man and animals in all stages of life. The aim of the present study was to investigate the effect of melatonin on some hematological parameters and immune status of broiler chicks. For this purpose sixty-four, three weeks-old chicks of Hubbard strain weighing 500-633g were used. Birds were kept on lighting regimen of 12 hours natural light to 12 hours darkness. Chicks were randomly allocated into four equal groups of 16 birds each. The first group was kept as a control group and fed starter ration sprayed with ethanol saline without melatonin from the 4th to 8th weeks of age. The second, third and fourth groups were fed on the starter ration sprayed with ethanol saline containing 20, 30 and 40 mg melatonin / kg ration, respectively from the 4th to 8th weeks of age. Blood samples were obtained from the tibial vein of all birds at the end of the 1st week of treatment and then every week up to the end of the experiment. The obtained blood were used for determination of red blood cells (RBCs) count, hemoglobin (Hb) concentration, packed cell volume (PCV) as well as total and differential leukocytic count. Tissue samples from liver, spleen, thymus and bursa of Fabricious were taken for histopathological examination. The results revealed that melatonin in the three doses produced a significant increase in RBCs count, PCV, Hb concentration, total leukocytic count and lymphocyte percentage which clarifies the effect of melatonin on improving the health and immune status of the chicks under investigation. The histopathological study in the present investigation revealed that melatonin treatment induced a lymphoid hyperplasia in the liver, spleen, and bursa of Fabricious of all treated groups. This lymphoid hyperplasia might be another explanations for the immunostimulant effect of melatonin. In conclusion melatonin was found to improve the health and immune status of broiler chicks.
This work is licensed under a
Creative Commons Attribution 4.0 License
.
Journal Metrics
The data was calculated based on Google Scholar Citations.
h-index (August 2022): 67
i10-index (August 2022): 839
h5-index (August 2022): 20
h5-median (August 2022): 28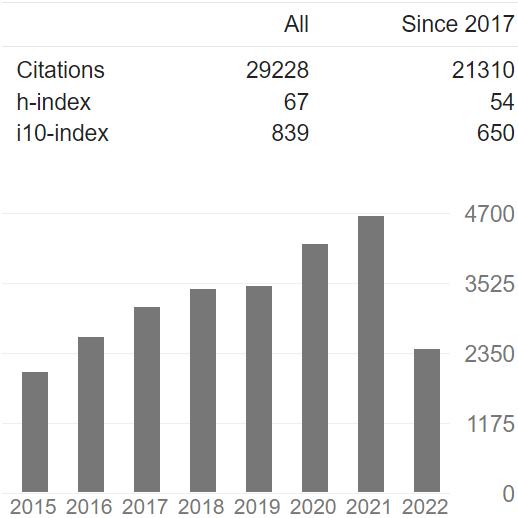 Contact
Anne BrownEditorial Assistant