International Journal of Business and Management (IJBM) is an international, double-blind peer-reviewed, open-access journal published by the Canadian Center of Science and Education. IJBM aims to provide a valuable outlet for research and scholarship on management-orientated themes and topics. It publishes articles of a multi-disciplinary and interdisciplinary nature as well as empirical research from within traditional disciplines and managerial functions. With contributions from around the globe, the journal includes articles across the full range of business and management discipline...
Read More
Posted on Sep 21, 2023 We are reaching out to invite you to join the esteemed team of reviewers for International Journal of Business and Management. As an internationally recognized journal in the field of business and... Read More
Katia C.de A. Vasconcelos

Annor da Silva Junior

Priscilla de Oliveira Martins da Silva
Serhiy Kovela

Amanda Annandale

Brett Annandale

Peter N. Jackson
Fábio de Oliveira Neves

Eduardo Gomes Salgado
Fábio de Oliveira Neves

Eduardo Gomes Salgado

Arthur Arnoni Occhiutto

José Augusto Zorel

Ernandes Benedito Pereira
Issues
Submit Manuscript
The journal accepts Online submission and E-mail submission. Manuscripts (MS office word format) and supplementary materials can be submitted via the journal's Online Management System or email to ijbm@ccsenet.org.
If you have any questions, please contact the editorial assistant at ijbm@ccsenet.org.
Paper Selection and Publication Process
1. Upon receipt of paper submission, the Editor sends an E-mail of confirmation to the corresponding author within 1-3 working days. If you fail to receive this confirmation, your submission/e-mail may be missed. Please contact the Editor in time for that.
2. Peer review. We use double-blind system for peer-review; both reviewers and authors' identities remain anonymous. The paper will be peer-reviewed by three experts; two reviewers from outside and one editor from the journal typically involve in reviewing a submission. The review process may take 4-10 weeks.
3. Notification of the result of review by E-mail.
4. The authors revise paper and Article Processing Charge (Formatting and Hosting)(300USD).
5. After publication, the corresponding author will receive two copies of printed journals, free of charge.
6. E-journal in PDF is available on the journal's webpage, free of charge for download.
NOTE
Zero Tolerance on the Plagiarism
The publisher and journal have a policy of "Zero Tolerance on the Plagiarism". We check the plagiarism issue with two methods: reviewer check and plagiarism prevention tool (ithenticate.com). All submissions will be checked by iThenticate before being sent to reviewers.
E-Version FirstTM is a feature offered through our journal platform. It allows PDF version of manuscripts that have been peer reviewed and accepted, to be hosted online prior to their inclusion in a final printed journal. Readers can freely access or cite the article.
Each paper published in International journal of business and management is assigned a DOI®number, which appears beneath the author's affiliation in the published paper. Click HERE to know what is DOI (Digital Object Identifier)? Click HERE to retrieve Digital Object Identifiers (DOIs) for published articles.
This work is licensed under a Creative Commons Attribution 4.0 License.
Journal Metrics
Google-based Impact Factor (2023): 0.81
h-index(2023): 152
i10-index(2023): 1168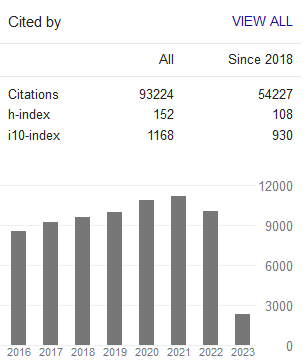 Contact
Stephen LeeEditorial Assistant